One Minute Nonsense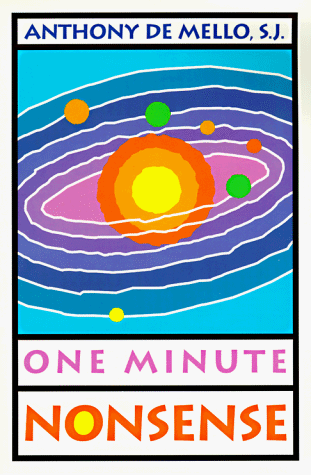 When returning Fast Food Nation to the library today, I found One Minute Nonsense (by Anthony De Mello, SJ) just lying on top of a book shelf where someone else had discarded it. This little gem drew my eye because of the title. At first I thought it might be an answer to The One Minute Manager, which is an excellent book for anyone in management or aspiring to be a manager.
| | |
| --- | --- |
| | One Minute Nonsense |
| | One Minute Manager |
But to my delight, it wasn't. Published posthumously, it turned out to be one of those subversive little books that has deceptively simple tales of "the Master." As the blurb on the back of the book says, the Master could be anyone—a Muslim mullah, a Hindi guru, a Jewish rabbi, a Zen roshi, a wise Christian, or any sage. He could be a monk or married, or he could even be a she, though the master is always presented as male in this book, perhaps reflecting the unfortunate but natural, built-in bias that a Jesuit priest is going to have against women having any kind of innate knowledge.
I recognized at least one saying by Mark Twain in this book as well.
There are so many stories in this book that I would like to share that I had a very hard time picking out just one. (This is, after all, a book review, and I don't want to violate copyright by putting too much in this review.) After some thought, I selected this one, though perhaps on another day, in another mood, I might choose differently:

An art writer was giving a lecture at the monastery.

"Art is found in a museum," he said, "but beauty is found everywhere, in the air, on the ground, all over the place, free for the taking — with no name attached to it."

"Exactly like spirituality," said the Master the following day when he was alone with his disciples. "Its symbols are found in the museum called the temple, but its substance is everywhere, free for the taking, unrecognized, with no name attached to it."

Some of the stories provoke thought. Others are quite funny. Some made me laugh right out loud. All are short enough to enjoy just a few at a time, or just one if in a real hurry or if you wish ot use each story as the basis for reflection. Or, if you are greedy, they are short enough to enjoy in one rush of reading. (Though the introduction recommends against this approach.)
Though the original manuscript was a single book, One Minute Nonsense is the first of two books. The second book is More One Minute Nonsense; I am going to see if the library has it as well.
It was disappointing to me that the publishers chose to divide the author's manuscript this way. Dividing the books this way seems a blatant and cheap way to sell more books, though the given reason is that the author is no longer with us and so this is a way to "stretch out ... our leave-taking of a contemporary author whose spirit, stories, and imagery profoundly enriched the terms of spiritual reflection today."
However, if you can set this quibble aside, the book itself is well worth seeking out. I don't think it was a coincidence that the book was lying out where I couldn't help but see it. In fact, I will take this opportunity to discuss, just a little bit, the topic of being open to information and help coming to you in a variety of forms.
Posted by Marina at March 26, 2002 04:56 AM