Many of you are already familiar with Delectable Desserts, the first volume in my cookbook series, Delicious Connections. (And thank you so much for buying that book, and for the five-star reviews on Amazon!)
Delectable Desserts has 108 time-tested, reliable desserts you can make and enjoy, including my all-time favorite cookie, Snow-Covered Gingersnaps, a recipe that has been in the family for generations.
I've now finally completed the second volume of my cookbook series, Recipes Your Mother Knew by Heart. Like Delectable Desserts, Recipes Your Mother Knew by Heart is packed with recipes I've made over and over again. So you know the recipes work, and you know people love them.
As with Delectable Desserts, Recipes Your Mother Knew by Heart is about connecting with others through delicious food.
This time, however, you get a lot more than 108 recipes. Not counting recipe variations, you'll find a solid 255 recipes, nearly half of which are originals (invented by family, friends, and me). I would be honored and delighted if you were to buy it! Both cookbooks are available internationally on Amazon, so if you're in the UK, for example, you can buy it from Amazon.co.UK.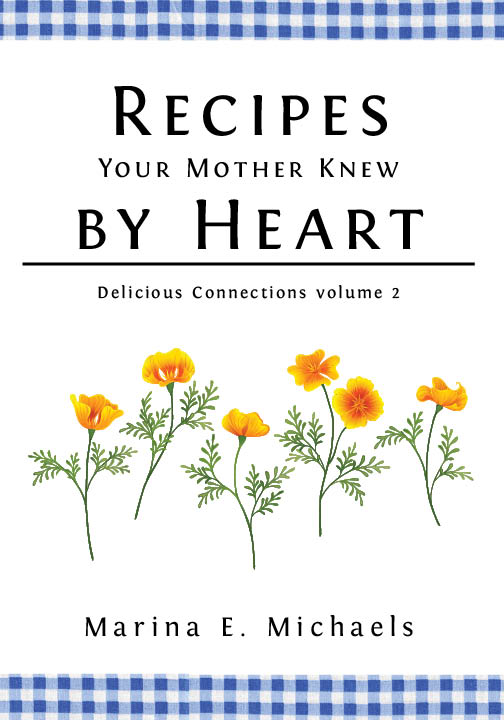 If you're searching for my book (either in the US or internationally), if you can't find it by the title, search for the ISBN numbers for each book (and include ISBN in your search): "ISBN 978-1-600380228" for Recipes Your Mother Knew by Heart; "ISBN 978-1600380075" for Delectable Desserts.
(Note: If you find a book named Recipes Your Mother Knew by Heart, published in 2011 but with a completely orange cover, that was an earlier version of both cookbooks. I did that version as my final project in one of my InDesign classes. It has a different ISBN number, so if you search for the ISBN numbers I just gave, you'll find the right version.)
Many gluten-free, vegan, and vegetarian recipes included
Because my daughter is gluten-sensitive, many of our favorite recipes are gluten-free. You can find those indexed under "gluten-free recipes." For example, here's a photo of the Flourless Chocolate Cake you'll find on page 149. Look at that dark chocolate ganache oozing down the side. That moist lusciousness inside. And the recipe is super simple!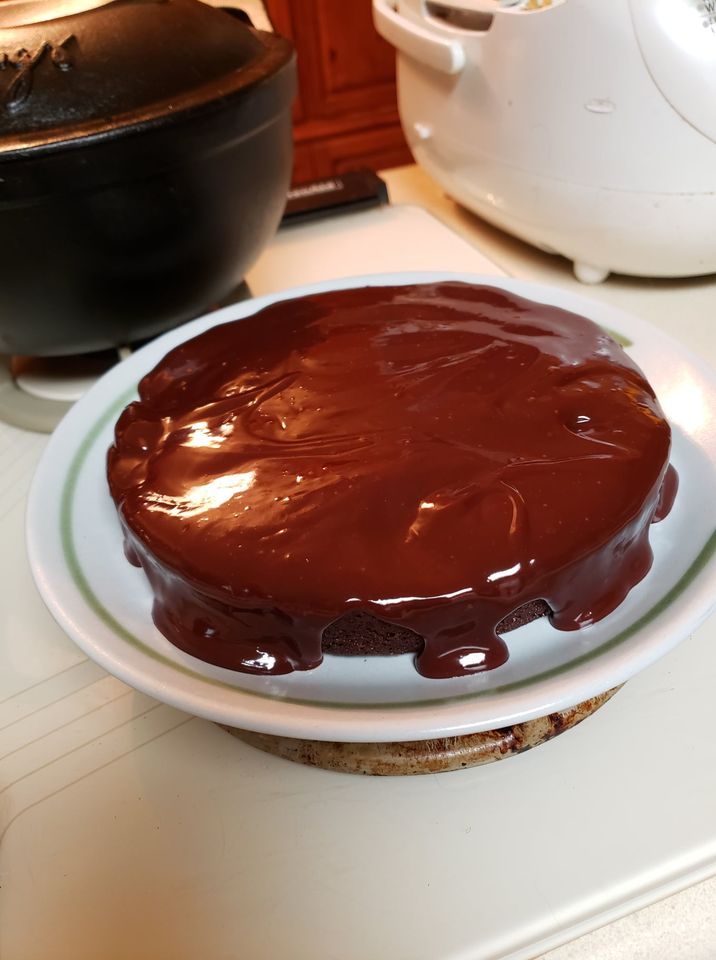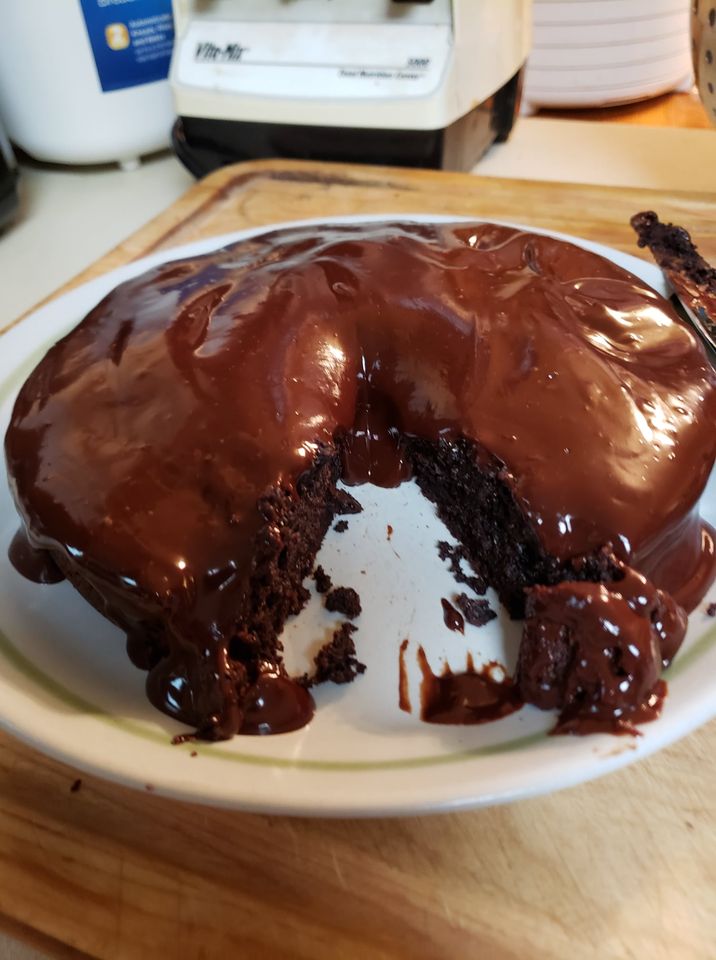 I've also included a large number of our favorite vegetarian (lacto-ovo) and vegan recipes. Even the heartiest, most dedicated meat-eater enjoys every one of those recipes.
The long-promised perfect baklava recipe
You may remember that when I announced Delectable Desserts, I promised I'd include a favorite baklava recipe in Recipes Your Mother Knew by Heart. Here's a photo of that recipe (page 132 in the book)! A few months ago, a member of a Facebook group I belong to asked for baklava recipes. She had never made baklava, and wanted to try it. I shared my baklava recipe and asked her if she would be so kind as to give feedback when she made it. She reported that thanks to my instructions, the baklava came out perfectly.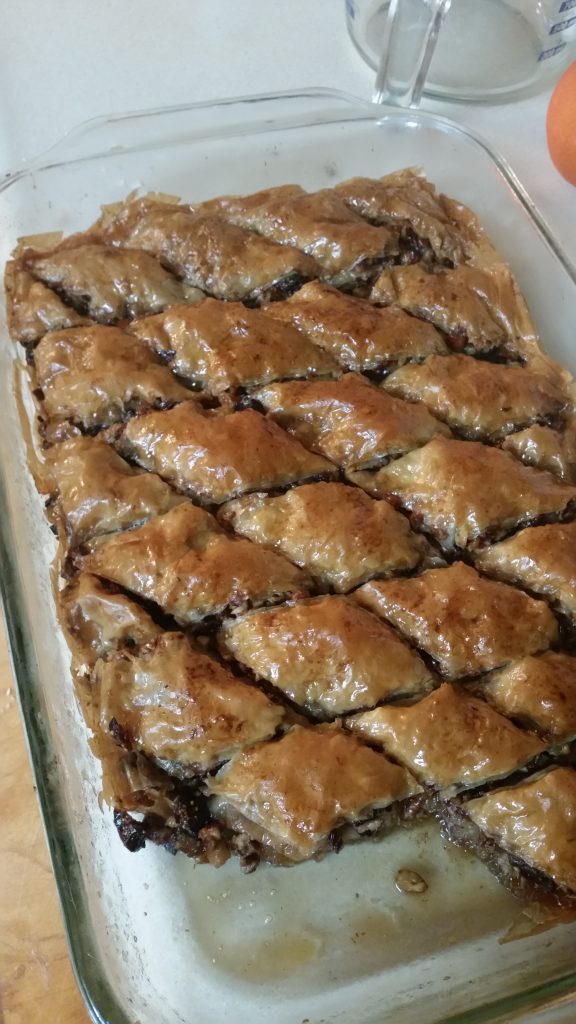 As a bonus, I include another favorite baklava recipe, Brandy Pecan Fig Baklava (page 135), in Recipes Your Mother Knew by Heart.
I could say a lot more about this cookbook! I'm so happy about it. It was a lot of work and I struggled to complete it through corrupted files, three hard drive failures, and the worldwide grief that the COVID situation has brought about.