When my daughter was 10, I separated from her father. He claimed the television for himself, and I was fine with that. I'd lived more years without a television than with, and while I can enjoy watching TV, I've seldom found anything worth watching. So I was now without a TV and chose to remain that way.
My daughter was at a bit of a loss. Although she enjoyed reading, her interest hadn't taken off, and we'd had a TV in the house since she was 4. So she'd had easy entertainment that required no effort from her.
What do you do without a TV?
Now here we were, TV-less. I started getting interesting crafts to try–unpainted ceramics that to paint, or modeling clay, and other such things. She and I spent many, many, MANY happy hours crafting together.
When she turned 11, I taught her how to do counted cross-stitch, and she picked up that skill quickly. She became even better than I am, and I'd been embroidering since I was 8 and doing counted cross-stitch since I was in my mid-thirties.
I'd been entering her various craft projects in the local county fair since she was in third grade. That summer, I entered her first cross-stitch project in the county fair. Not only did she get first place for her age group, one of the judges wrote on her ribbon card that she could have entered her project in the adult's division, it was that good. (Tip to parents: County fairs are a lot of fun, and it can be a lot of fun for you and your child to enter your kid's work in it.)
Years passed and I gradually got away from doing much counted cross-stitch, and my daughter dropped it entirely.
2019: craft night starts
In 2019, my daughter and I talked about what we could do together that would be fun. I reminded her of our hours spent crafting when she was 10 to when she was about 13.
She had forgotten about those times, but instantly suggested we spend one night a week crafting together. I loved the idea, and bought more counted cross-stitch supplies (most of my old stash was and still is packed for moving), and also bought some fabric.
And then we began. It was a fun thing to do together. We'd listen to books, getting through a number of old favorites from Sir Terry Pratchett's Discworld series, and finding a few other decent books to listen to.
One craft leads to another
We're still crafting together, and both of us have branched out into other creative pursuits. I used to sew all my own clothes (and some nice things for my daughter when she was young), so I started sewing again–not just clothes, but other fun and useful things.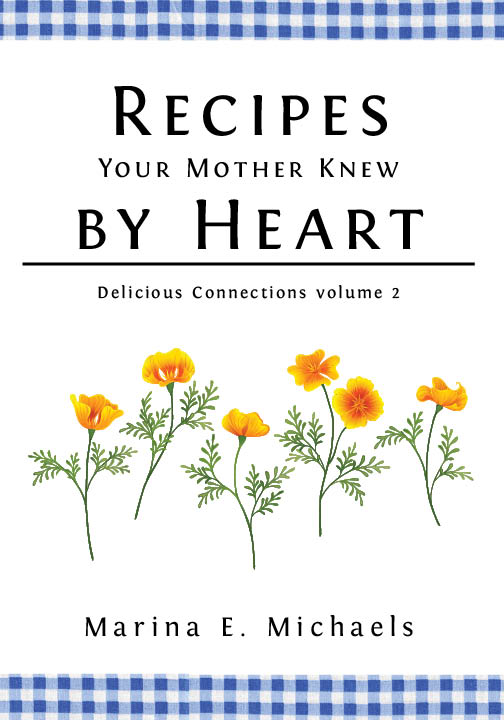 I also finished the second volume in my cookbook series: Recipes Your Mother Knew By Heart. (I've written hundreds of software manuals, and I will say that writing a cookbook was harder than any of them. Jon Rioux, one of the authors whose book I'm managing, concurs.)
Late in 2020, my daughter found she loves making wire-wrapped jewelry, and she's really good at it. I dug out my old watercolor supplies and started to get back into that, experimenting with incorporating my interest in the Elder Futhark runes with watercolors.
Crafting is good for you
Our purposes for the crafting night were manifold: spend time together, give us something to help ease anxiety and build calm, do something–anything–creative. I had read that needlework, handwork, creative activities of any kind help the brain. For example, did you know that World War I soldiers suffering from what they called shellshock were taught to embroider to help them recover?
I recently read Anna Mason's blog post, "How making art can build your inner strengths." Her statements bear out my experiences:
"Over the last 20 years or so there has been an explosion in neuroscience research which has proven that the brain's evolved for learning, and is therefore constantly changing and growing in response to the experiences we have. … Experiencing, and taking in, positive emotions repeatedly has been shown to change the brain, and therefore our lives, in brilliant ways. … [P]ositive emotions are actually the building blocks of creating love, wellbeing and health: … they are the means, not the end."
Give your creativity wings
My point in sharing our experiences in this blog post is to give encouragement and hope to those who might be engulfed in grief by the way our lives have changed because of COVID-19. None of us, no matter how much we try to hide our heads in the sand of denial, can't ignore the millions of deaths worldwide, with over 650,000 in the USA alone. (Remember grief has many facets, including anger and denial.)
Shining the light of comprehension and awareness on your grief–however you're experiencing it–can only help you.
Aside from taking responsibility for your own health and limiting your exposure, it might seem there's not much you can do, and that can be overwhelming. But there are many things you can do.
What can you do?
In addition to reminding yourself to be kind (to yourself and others), and to make allowances (for yourself and others), and to try your best to understand those more fearful and overwhelmed than you, you can also find something to do that brings you joy.
So give yourself permission to pursue your own creativity. One bit of advice: When you start a new creative venture, do your best not to judge or criticize yourself. Our inner critics can be ferocious. Don't let them stop you. Don't compare your work with anyone else's, not even your own standards. Comparison is the thief of joy, and it can bring your creative activities to a halt if you don't nip it in the bud immediately.
Many of us suffer from imposter syndrome. It's marginally better than being a poster child for the Dunning-Kruger effect. Do your best to focus on what you have accomplished, not on how you think everyone else must be better than you.
And don't let well-meaning, nay-saying friends stop you either.
Instead, encourage yourself and keep at it. Eventually, if the creative thing you're doing brings you joy and you keep at it, you'll become better at it. Or you may find something else to play with. Either way, you will have spent time doing something good for you.
Assume good of others
Part of rewiring your brain is to assume good intentions. I recently watched Therapist Reacts to Brave. If you haven't watched any of the Therapist Reacts To series, I highly recommend those videos. They're a lot of fun. Their formula is a movie director and a counselor watch a movie together. They comment on the movie throughout, and then at one point, the counselor takes a few minutes to draw some relationship wisdom from the movie. Not just romantic relationships, but all manner of human relationships.
In Therapist Reacts to Brave, at the dispensing wisdom stage, the therapist says
[M]y biggest takeaway from Brave is: assume good intentions. Very often, we do the opposite. Someone's doing something we don't like. What they're saying or doing is hurting us or impeding us, and we assume that this person is now the villain of the story. And most people–not everybody–most people want to do the right thing. Most people … want to act with integrity and conscience. Most people want to feel safe, respected, and loved. And what ends up happening is our efforts to feel safe, respected, and loved, or our efforts to do right by other people, go awry. … [W]hen we don't see the good intentions in others, … they get defensive and they're not going to hear us. … They're just going to hear, "Oh, you're telling me that I'm the bad guy, and now I need to defend myself."