Calendars generally are considered one-use items. But they don't need to be. There are many things you can do with old calendars. Here are just a few ideas; after reading through them, you are sure to come up with more.
Reuse in a Few Years
If you really enjoyed a calendar, you can reuse it when the dates are right again. For example, your 2010 calendars will be good again in 2021, 2027, 2038, 2049, 2055, 2066, 2077, 2083, 2094, 2100, and 2106. In 2011, you can reuse calendars from 2005, 1994, 1983, 1977, 1966, 1955, 1949, 1938, 1927, and 1921.
There are some calendars I wish I had saved because they were so gorgeous, but I didn't think of the fact that you can reuse them in some number of years.
Want an easy way to determine when you can reuse a calendar? Check out this Web site.
Decorate Binders
If you don't want to keep a calendar around until it is good again, you can use the images to decorate binders. You know those binders that have a clear place on the front, back, and spine where you can insert something? Cut one image from a calendar into two pieces, one for the front and one for the spine, and place it in those inserts in your binder. If you cut the calendar image right, it will look like the image is wrapping around from the front to the spine. I did this for a binder holding my DayTimer calendar pages and it was beautiful! For the back, I chose a coordinating image from a different calendar. (The binder below was my first, so the cuts are imperfect. I recommend using a ruler and preferably a paper cutter instead of eyeballing and cutting freehand.)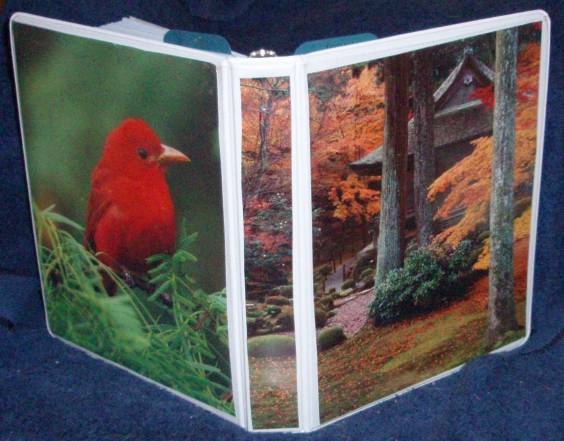 If you don't have a binder with clear insert sleeves, you can use heavy-duty clear tape (like packing tape) to attach an image to the front and spine. It still looks very nice, and can be a way to dress up a binder well enough that you get more use out of it. I did this to a binder that was a bit battered and an ugly 80s color and placed items in it that I need to refer to, but not so often that I wear the new cover out.
Frame the Art
If there are images on a calendar that you would love to look at every day, consider framing them. I had a calendar that was all reproductions of Henry Evans lithographs. I took all the art, trimmed it, and put them all in one frame. When I feel like it, I shuffle the pages so a new image is showing. Alternatively, I could have framed two or three of my favorites so I could see them all the time.
To save money on framing, check out PictureFrames.com. I've been buying from them for a very long time now. Their quality, customer service, and prices are all excellent.