Downloadable and Printable,
the products on this page are inexpensive and printable.
Evil Eye Protection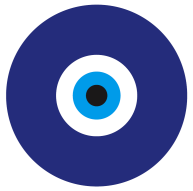 Although I have reassured people many times that one cannot be cursed, there are nonetheless those who do not hold our best wishes in their heart. Such people generate a certain kind of energy that can be disruptive in our lives, especially if we are not aware of it. If you take my online psychic class, you can learn advanced techniques for protecting yourself from such energies. You can also use this ancient symbol, which dates back to possibly as long ago as ancient Egypt (perhaps arising out of the Eye of Horus; certainly related to it). This traditional symbol has been used for millenia to create a safe energetic space. It is said to especially protect from the energies that arise out of the jealousy and ill-wishing of others.
By employing this symbol, you are declaring your intention and desire to the universe that you do not wish to partake in the dramas that such people wish to create. By making such a conscious and positive declaration, you go a long way toward protecting yourself and your loved ones from dense, negative energies.
The card looks great printed on 4" x 6" glossy photo paper.
Use the buttons (below) to either purchase right now (Buy Now) or to add the card to your shopping cart (Add to Cart) while you purchase other items from this site. Thank you!
Purchase Using PayPal
US $2.99
After you purchase the card, I will email you the PDF file with instructions for printing.
Please note that this card is for your own personal use only; purchase of this card does not grant the right to reproduce the card or to re-sell either the file or printed copies of the image.
Chakra Cards (coming soon)
You can use this set of eight cards to tune into your chakras and brighten them up, bringing them (and you!) into greater spiritual and energetic alignment. Beautifully created in full color, tying together ancient, traditional chakra information with more modern beliefs and approaches, these cards are a joy to use. Portable and compact.
This set has eight folding cards, each card the size of two standard business cards. There is one card for each major chakra, plus an eighth card with information and instructions. You get the cards in PDF format; you can print them out on either your laser jet or inkjet printer using Avery business card stock.