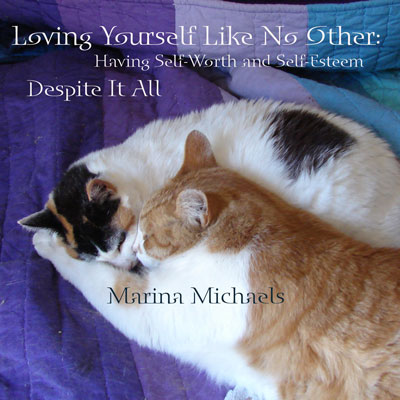 Key Ideas
Covers two separate topics. The first is part one on the topic of channeling from the spirit perspective. The second is our relationship with ourselves, and how to improve it. Includes a unique guided visualization for deep inner healing.
You can purchase the digital album for this evening for just $10. See the buttons to the right.
Summary
This channeling was held after closing time at Crystal Channels. The energy in the room I used there is wonderful and the channeling flow was intense and powerful.
Topic One: Channeling
There are two topics on this evening's audio. The first topic is on the subject of channeling from a spiritual perspective. The Gatekeeper introduces information that I have never heard before on that topic.
Topic Two: Loving and Valuing Yourself
The second and longer portion of the evening was Metatron speaking on the issues of loving and valuing yourself. He introduces a number of new ideas and ways of thinking that can help you on your path.
At the end of the evening, he gives another of his unique guided visualizations. This one left a deep, peaceful feeling in my heart. Metatron says that energy, information, and love have all been encoded on this recording, so that, when you listen to it, whether you are awake or asleep, whether you are present for the channeling or listening to an audio recording of it, "you will have healing energies and information soaking into your body, into your soul, into all of your existence...like a long-desired rain after a period of dryness. All of your elements will absorb this [energy]." He recommends that you listen to the guided visualization regularly; perhaps once a week or so.
Anyone could benefit from listening to this session.
Track Listing
Statement of date, time, place, and topic of the channeling
Channeling from the Spirits' Perspective, part 1 (part 2 is given in Relationships in the New Age)
The Fundamental Issue is Love
The Crystalline Grid and You
Changing Self-Judgment
Be At Peace
Preparing for the Guided Visualization
The Garden, a guided visualization