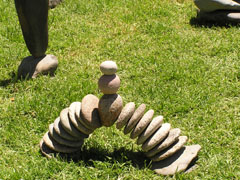 Thank you for your interest in Great Whirling Vortexes of Light!, the channeling I did on August 15, 2008 as part of my new series of channeled or intuitive explorations of various topics.
This channeling was filled with a lot of new and surprising information on chakras. I was especially surprised that Athena was the one who presented the information; it has been a while since I have spoken for her, and it was a lot of fun for me. She spoke quickly but in a very organized fashion. She definitely had an agenda for the evening!
The focus of her talk was on what she called our personal chakras—the seven major chakras that many people are aware of. She mentions only quickly that there are more, but that those were not the focus for the night.
Athena began by speaking about crystals, then moved on to how they relate to our chakras. Then she spoke of chakras from many different perspectives, including how they inter-relate to each other and how it is very useful and can be spiritually healing to pay attention to them. She gives a lot of specific information on how to do so. She also speaks of spiritual healing and how that can be accomplished through balancing our chakras. At times she touches on child rearing practices and on how we can shut down our awareness of our emotions and feelings because of them.
She says we should have another session on chakras, only this time with the focus of using crystals to balance them.
There are two ways to listen to these files:
You can download the files on this page: Right-click on each link and save the file to your computer.
You can also click on the play icon to the left of a track to listen to it. This opens a small, tidy little MP3 player that floats above the page, which you can use to listen to all the tracks (use the forward and back buttons, or click on the Playlist button).
Please remember that all content of these files is copyrighted by me, and all rights are reserved.