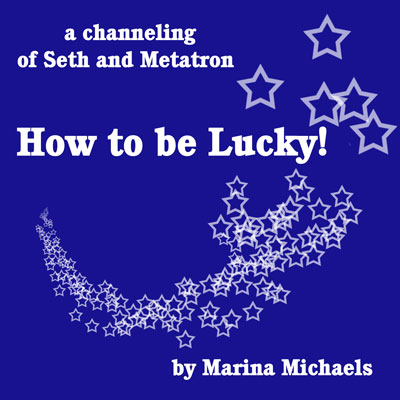 Key Ideas
The things that happen to us arise out of our own set of expectancies, which in turn often arise out of what Seth/Metatron call "emotional beliefs." They spend some time describing what emotions are, what emotions need to do, and how to work with your emotions and your emotional beliefs so that you can bring better, healthier outcomes into your life.
They include two periods of silence (like guided visualizations, but without words) that contain energies you can use as you work on your emotions.
You can purchase the digital album for this evening for just $10. See the buttons to the right.
Summary
What is luck? Is it creating your reality, controlling your own destiny? If so, what does that mean and how do you do it?
Seth, who is a probability master, and Metatron spoke as a combined being. It was a full moon—always a powerful time for me to channel—so I was looking forward to this evening with anticipation. I wasn't disappointed.
Seth/Metatron spoke of emotional beliefs and how they affect us, and of how to work with your emotional beliefs in a way that is healing and moves you toward greater joy in your life. These practices will help you heal emotionally and will also contribute to the overall healing of the world. Not insignificantly, they will also help you to bring to yourself greater good luck.
Seth/Metatron included two sections of silence, which they explained were like a guided visualization, but without words. Those sections are vibrant with energy that you can take into yourself, energy that can help you work with the recommended practices given in this channeling.
The evening closes with thanks to all who are listening, for being present, for paying the courtesy of their attention, for even if you do nothing but listen to these audio files, you are still vibrating in resonance with the energies that they embody, and as you vibrate to those energies, you are contributing to your own welfare and to the welfare of others.
Track Listing
Introduction
Changing Our Emotional Beliefs
Emotions Need to Move
How to Move Emotions
First Silence
Forgiveness
Second Silence
Vibrating in Joy