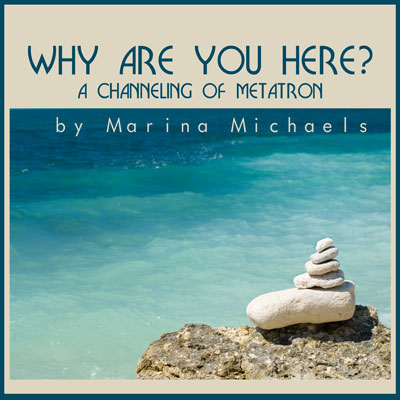 Key Ideas
We are each vital and irreplaceable, and we are all connected to everyone and everything else. Because of this, we have a great deal more importance and influence than we think.
Suggestions are made for how we can come to feel the truth of that in ourselves, and a guided visualization is provided for coming more into alignment with our soul's purpose.
You can purchase the digital album for this evening for just $10. See the buttons to the right.
Summary
Perhaps everyone has wondered, at least now and then, why they are here in this world, in the place and time they are, in the situations they are in, with the people they are with.
Metatron suggested the topic for this evening. When he began, he rapidly swung into high gear, speaking not only of our individual purposes for being here, but also of how we connect with all other life on this planet.
At the end of the evening, Metatron gives a guided visualization. The purpose of this visualization is to help you to become more fully integrated with your soul's purpose for you. Once again, as always, the guided visualization was unique.
In the question and answer period, one set of questions was asked that I felt was pertinent to many, so with permission, I am including that section in the audio. The other questions have been deleted.
Track Listing
Introduction
We Are Each Vitally Important
We Each Have Power to Effect Change
The Spiritual Internet
Contributing Consciously
Creating Proactively
Resonating Harmony
The Mirror: A Guided Visualization
Questions and Answers